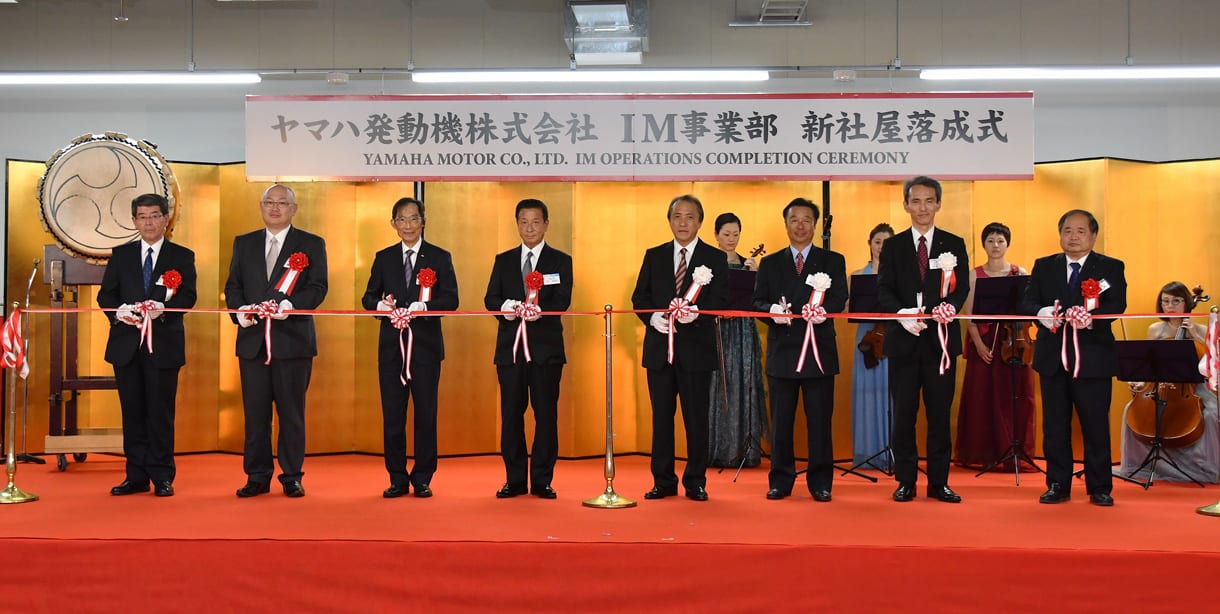 Expanding business scale and establishing a high-profitability business model
Yamaha Motor Co., Ltd. announces that it has completed construction of the new Hamamatsu IM Base (located in Toyooka-cho, Kita-ku, Hamamatsu, Shizuoka Prefecture) for the IM Business Unit, which undertakes the development, manufacture and sales of surface mounters and industrial robots. The building has been under construction since April 2015 with the goal of consolidating the IM Business Unit's previous three offices and factories* throughout Hamamatsu into a single facility in order to expand business scale, and a ceremony was held today to mark its completion. The objective of the new facility is to achieve the targets laid out in the medium-term management plan of net sales of 60.0 billion Japanese yen and an operating income ratio of 20%.
Yamaha Motor President and Representative Director Hiroyuki Yanagi, Managing Executive Officer and Chief General Manager of Vehicle & Solution Business Operations Toshizumi Kato, Executive General Manager of the IM Business Unit Hiroyuki Ota and some 200 guests attended the ceremony, where a traditional Shinto ritual was performed to offer prayers for the facility's safety, followed by a ribbon-cutting ceremony.
The IM Business Unit is working to establish a high-profitability business model by leveraging Yamaha Motor's advantages of speedy management through integrated development, manufacturing and sales operations, and expanding sales channels to include the automotive, home appliance and LED, mobile phone and electronics manufacturing services (EMS) fields.The surface mounters that are Yamaha Motor's leading product in the industry boast the world's fastest mounting speeds as well as compatibility with a wide range of components and circuit boards in their respective categories thanks to Yamaha's unique "1-head solution" concept, and they hold the top share in the general-purpose surface mounter segment. Peripheral devices like solder-paste printers, dispensers and inspection systems are also available, making Yamaha a manufacturer of a full lineup of equipment for surface-mount technology and enabling us to offer higher total line efficiency and quality.
In addition, Yamaha offers a comprehensive lineup of industrial robots and peripheral equipment designed for industrial automation, from single-axis, Cartesian, SCARA and articulated robots to image processing systems and our Linear Conveyor Modules.
In 2016, an integrated control robot system, the "Advanced Robotics Automation Platform," was developed to quickly clear the hurdles faced by production facilities looking to add complexity, variety and speed to their lines and maximize return on investment.
*Hamamatsu IM Base (Soude-cho, Naka-ku, Hamamatsu), Miyakoda Base (Shinmiyakoda, Kita-ku, Hamamatsu), Kuramatsu Factory (Kuaramatsu, Minami-ku, Hamamatsu)
Hamamatsu IM Base Summary
Location 127 Toyooka-cho, Kita-ku, Hamamatsu, Shizuoka Prefecture
Facility layout Steel construction, 4 above-ground floors
(3 floors with mezzanine in some areas)
Site area Approx. 60,000 m2
Floor space 52,317 m2
Employees Approx. 700 (as of February 2017)
Products manufactured Surface mounters, industrial robots
About Yamaha Robotics SMT Section
Yamaha Surface Mount Technology (SMT) Section is a subdivision of Yamaha Motor Robotics Business Unit in Yamaha Motor Corporation. Yamaha surface mount equipment is highly acclaimed in the market for their "module concept" that enables them to keep pace with the trend toward smaller and more diverse electric/electronic parts being mounted on circuit boards.
Yamaha SMT Section has created a strong business in the surface mount industry that enables design and engineering, manufacture, sales and service to be conducted in one comprehensive system. Furthermore, the Company has used its core technologies in the areas of servo-motor control and image recognition technology for vision (camera) systems to develop solder paste printers, 3D solder paste inspection, 3D PCB inspection machines, flip chip hybrid placers and dispensers. This allows Yamaha SMT Section to offer a full line of machines for electric/electronic parts mounting and propose optimum production-line makeup to answer the diversifying needs of today's manufacturers.
Yamaha SMT Section has sales and service offices in Japan, China, Southeast Asia, Europe and North America provide a truly global sales and service network that will safeguard best in class on-site sales & service support for clients.
www.yamaha-motor-im.eu