Winner in High-Volume Pick & Place category delivers uncompromised performance with two full-featured and independent lanes
Yamaha Robotics SMT Section has received the winner's trophy in the Global Technology Awards 2023 High-Volume Pick-and-Place category with its YRM20DL mounter, which brings total flexibility to dual-lane manufacturing.
The Yamaha team celebrated its YRM20DL award
Launched in April 2023, the YRM20DL accepts boards up to 330mm on both lanes simultaneously. Fully independent drives and push-up pins in each lane ensure boards are clamped, populated, released, and moved out efficiently. Overdrive mode lets each placement head operate in either or both lanes and each lane allows non-stop feeder cart changeovers. Users can leverage this flexibility to assign identical products to both lanes, or different products of unequal workload and cycle time, to optimise throughput and ease production planning.
"The YRM20DL lets users flex their SMT production capacity at will and without compromise as changing workloads call for greater volume or greater mix," said Yasushi Miyake, Branch Manager, receiving the trophy at the traditional prize-giving presentation during the Productronica exhibition in Munich. "We are delighted that we can now celebrate this cutting-edge machine as an award-winning mounter."
The Yamaha delegation received the award on the opening day
The YRM20DL connects efficiently with Yamaha's latest YRP10DL dual-lane printer and YRi-V DL 3D AOI for seamless end-to-end dual-lane productivity, to deliver maximum throughput in a wide range of manufacturing scenarios.
With 120,000 cph placement speed and +/-15µm accuracy, the YRM20DL integrates outstanding features from the single-lane YRM20 mounter. These include the stopperless conveyor system that meets automotive-industry requirements for careful board handling, low-impact placement nozzles, Yamaha's Multiple Accuracy Compensation System (MACS), and options including coplanarity checking and the all-image tracer.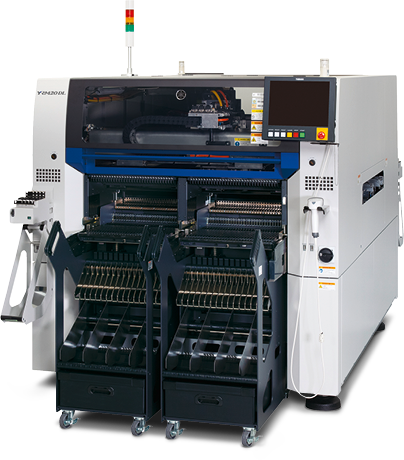 Yamaha YRM20DL
The optional advanced safety package supports safety category 3 and other safety items and includes independently controlled front and rear signal towers, auto nozzle station, and chip-dump box overflow prevention.
About Yamaha Robotics SMT Section
Yamaha Surface Mount Technology (SMT) Section, a subdivision of Yamaha Motor Robotics Business Unit in Yamaha Motor Corporation, produces a complete selection of equipment for high-speed inline electronic assembly. This 1 STOP SMART SOLUTION includes solder paste printers, component mounters, 3D solder paste inspection machines, 3D PCB inspection machines, flip-chip hybrid placers, dispensers, intelligent component storage, and management software.
Bringing the Yamaha way to electronics manufacturing, these systems prioritize intuitive operator interaction, efficient coordination between all inline processes, and modularity enabling users to meet the latest manufacturing demands. Group competencies in servo-motor control and image recognition for vision (camera) systems ensure extreme accuracy with high speed.
The current product line includes the latest YR equipment generation, with advanced automated features for programming, setup, and changeovers, and new YSUP management software with state-of-the-art graphics and built-in data analytics.
Combining design and engineering, manufacture, sales, and service competencies, Yamaha SMT Section ensures operational efficiency and easy access to support for customers and partners. With regional offices in Japan, China, Southeast Asia, Europe and North America, the company provides truly global presence.